Bardiya National Park
Trip Overview
Bardia National Park is the largest National Park in the lowland Terai area of Nepal Covering 968 sq KM. the park is home to Bengal Tiger, wild elephant, Greater One horn Rhinoceros, swamp deer, and blackbuck. This park is famous for elephant safari or jungle drive. During jungle safari or elephant safari, you will come across small herds of wild elephants. You will also see rhinoceros in the park. Here you can gain an experience of Adventure lifetime. While doing the jungle safari you can observe 30 different animals, over 250 species of birds, and varieties of reptiles and aquatic animals.
---
Trip Info
Destination: Bardia, Nepal
Trip Routes: Kathmandu - Nepalgunj - Bardia - Kathmandu
Activities: Wildlife and Jungle Explore
Area: 968 km2 (374 sq mi)
Trip Duration: 6 Day (s)
Trip Grade: Easy
Season: Throughout the year
---
---
Outline Itinerary
Day 01: Arrival at Kathmandu
Day 02: Fly to Nepalgunj and drive to Bardiya National Park
Day 03: Elephant ride, Jungle walk, Visit breeding center, and other activities.
Day 04: Birdwatching and sightseeing
Day 05: Drive to the airport and fly back to Kathmandu
Day 06: Final departure
---
Cost and dates
We do small group trek or private trip as your request.
For quick information / contact us at WhatsApp/Viber +977-9841815039

This trip can get redesigned or redeveloped as per your taste, For more information please e-mail us at mountainsunvalley@gmail.com
Itinerary
Day 1 Arrival at Kathmandu
On your arrival at Kathmandu airport, we will receive you and transferred to a hotel.
Day 2 Fly to Nepalgunj
On your arrival at Nepalgunj Airport, our staff receives you. You will then be transferred to our Lodge where you will be offered refreshment and will be given a briefing on our lodge and its facilities. After being given your programs for the day, your room will be then allocated to you.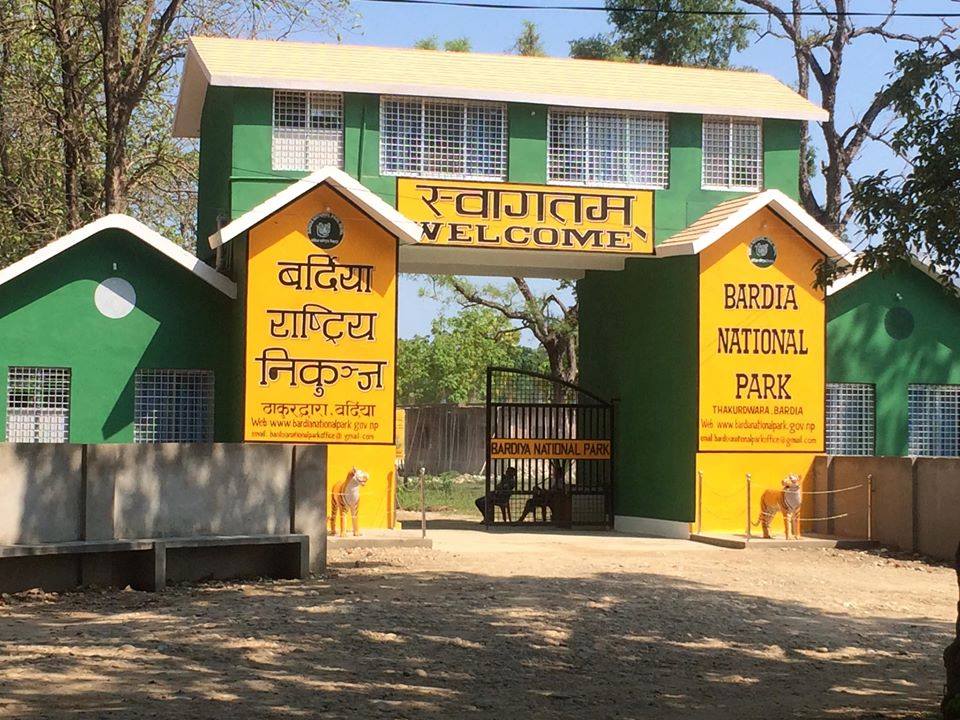 15:00: Village tour to a nearby ethnic Tharu village where you will learn more about the lifestyle and cultures of the Tharus.
20:00: Dinner
Day 3 Elephant ride, Jungle walk, Visit breeding center and other activities.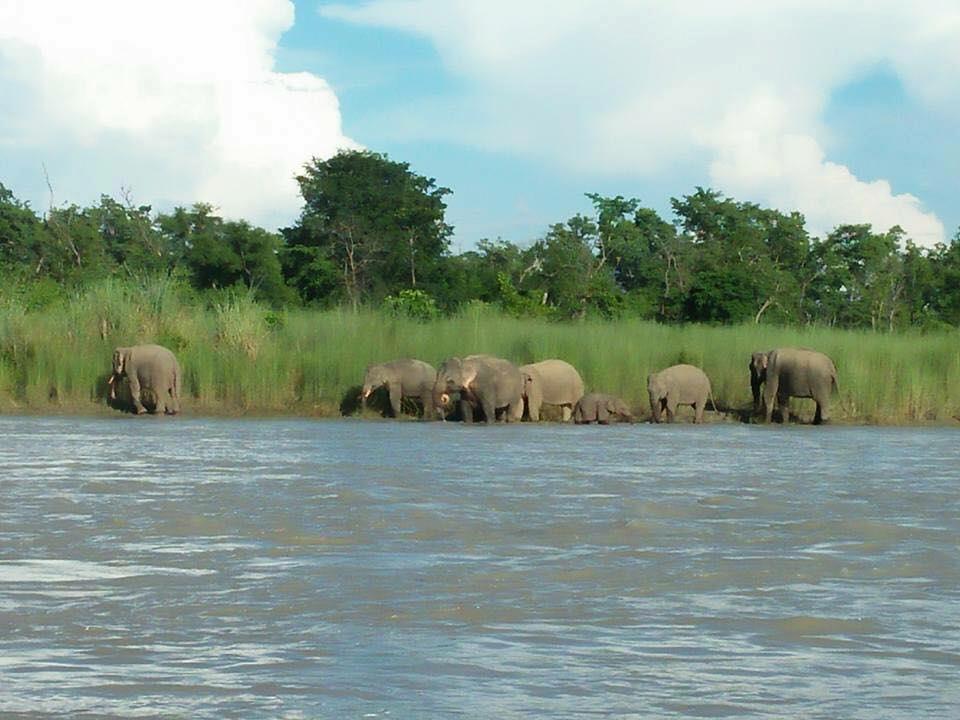 06:00: Wake up call
06:15: Breakfast
07:00: Elephant ride (for an hour), an excellent opportunity to get the lifetime experience on the elephant back and to see the wildlife of the Park. Visit visitor Center, Crocodile Breeding Center and Tharu Cultural Museum.
13:00: Lunch
15:00: Jungle Walk. An excellent opportunity to see the wild animals, small mammals, birds and waits in the Tower (Machan) to have the wild sightseeing, accompanied by our experienced naturalists and wildlife tracker. Excellent photographic opportunities are plentiful.
20:00: Dinner
Day 4 Birdwatching, and sightseeing.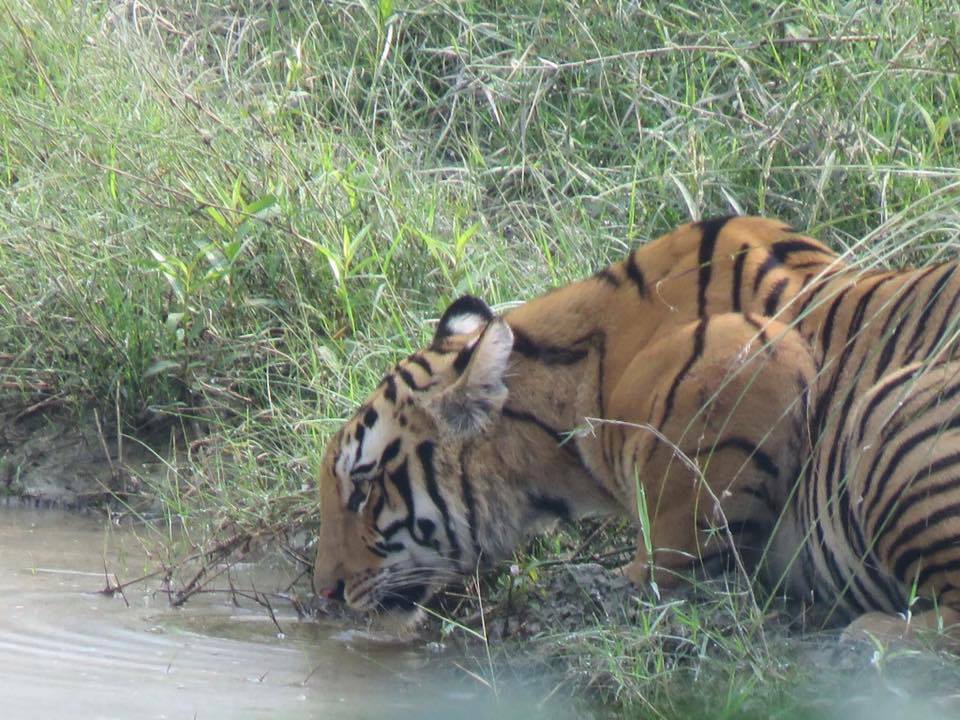 06:00: Wake up call
06:30: Breakfast
07:00: Bird Watching. An excellent opportunity to see a great many species of birds found in Bardia. Visit Karnali River for Dolphin sightseeing.
12:00: Lunch
Day 5 Fly back to Kathmandu
we take an early flight to Kathmandu from Nepalgunj airport. Upon reaching Kathmandu, you will be then transferred to a hotel.
Day 6 Final departure
We will drop you off at the airport for your flight back home or to your next destination.
Equipment List
Head:
Sun hat or scarf
warm fleece hat
Black Sunglasses
Upper Body:
T-shirts
Weight thermal tops
Fleece jacket
Fleece Wind-Stopper jacket
Waterproof jacket
Down vest or jacket
Hands:
Lightweight gloves
Heavyweight gloves or mittens with a waterproof shell outer
Lower Body:
Underwear
Hiking shorts
Lightweight cotton long pants
Light and expedition weight thermal bottoms
Fleece or wool pants
Waterproof pants
Feet:
Thick, warm wool hiking socks
Hiking boots with spare laces
Camp shoes (sneakers or sandals)
Personal Hygiene:
Two tubes lip sun cream, at least 1 large tube regular sun cream (min. factor 30), some after-sun lotion in case you do get a sunburn
toothpaste/brush set;
hand sanitizer gel
1 synthetic towel
Useful Info
This trip can be re-design as per your interest. Please contact us.
FAQ
1: How do I book the package tour to Nepal?
If the tour itinerary given in the website suits you, you can book online, e-mail, call or fax us. It is also possible to customized the itinerary as per your desire.
2: When is the best season to travel to Nepal?
The best season to visit Nepal is from March to May and September to November.
3. Do we need to cover travel insurance?
Yes, we advise you to get your insurance cover from your respective country.
4. What kind trekking guide do you use for the trip?
We use honest, experienced and English speaking guides for the trip.
5: Should I feel embarrassed expecting a porter to carry my pack?
Definitely not. If you can afford a personal porter it is highly recommended.
6: Is Communication to home possible on trek?
There are telephones in many villages along the popular trekking routes from which you can make international calls. We inform daily trekking report to your relatives to home.
The trip can be easily booked
We provide budget friendly trips
We provide the best price in comparision