Everest (3 High Passes )
Trip Overview
Everest Three Pass Trek- Exploring the Gems of Khumbu Region
The three pass trek in Nepal offers the ultimate and complete trekking experience in the Everest region. It is a purely a challenging trekking adventure in Nepal. Obviously it crosses 3 high passes linking the four distinct valleys of Bhotekoshi, Gokyo, Khumbu and Imja Tse. Crossing the rugged high passes of Renjo La (5388 m), Cho La (5380 m) and Kongma La (5535m) with climbing of the three peaks of Gokyo Ri (5483m), Kalapathar (5545m) and Chukung (5550m) along with the hike to Everest base camp makes this 3 pass trek unforgettable trekking experience in Nepal.
If you are a true adventure seeker and wish to do a challenging trek in the Everest region, then Everest Three pass trek is the ideal choice for you. Since it involves crossing high passes in the Everest region, you had to be physically fit for the trek.
Everest Three pass Trek Duration, Difficulty and Cost Details
The total trekking duration of this trek is ideally 19 days. We have customized the best and suitable itinerary of ideal trek duration of 19 days with proper acclimatization days in between. Since this trek involves crossing the three of the high passes of the Everest region it is a tough one. Hence the difficulty level of Everest three passes trek is really a challenging one. However, if you wish for less challenging yet adventurous treks in the Everest region then Gokyo valley trek can be an ideal choice.
The three pass trek cost would be around 1600 USD to 1800USD.
---
Trip Info
Destination: Everest, Nepal
Trip Routes: Kathmandu - Lukla - Namche Bazar - Tengboche - Dingboche - Chhukung - Lobuche - Gorakshep; Everest Base Camp - Lobuche; Kongma La Pass - Gorakshep - Lobuche - Dzongla - Gokyo - Marlung - Namche Bazar - Lukla - Kathmandu
Activities: Trekking and Sightseeing
Altitude: 5554m (18192 ft)
Trip Duration: 19 Day (s)
Trip Grade: Difficult
Season: March to May and September to December
---
---
Outline Itinerary
Day 1: Arrival in Kathmandu Airport (1360m)
Day 2: Flight to Lukla (2840m) and trek to Phakding (2,652m)—4 Hrs Trek.
Day 3: Trek to Namche Bazar (3,440m)—6 Hrs Trek.
Day 4: Acclimatization Day
Day 5: Trek to Tengboche (3,860m)—6 Hrs Trek.
Day 6: Trek to Dingboche (4,360m)—6 Hrs Trek
Day 7: Trek Chhukung (4,750m)—4 Hrs Trek
Day 8: Rest Day
Day 9: Trek to Lobuche (4,940m) via Kongma La Pass (5,535m)—7 Hrs Trek
Day 10: Trek to Everest Base camp(5,364)—Gorakshep (5,170m)—9 Hrs Trek
Day 11: Trek to Lobuche(4,940m) via Kalapather(5,545m)—9 Hrs Trek
Day 12: Trek to Dzongla(4,830m)—4 Hrs Trek
Day 13: Trek to Gokyo(4,800m) via Chola pass (5,368m)—8 Hrs Trek
Day 14: Rest Day
Day 15: Trek to Marlung(4,210m) via Renjo La(5,360m)—8 Hrs Trek
Day 16: Trek to Namche Bazar (3600m)—6 Hrs Trek
Day 17: Trek to Lukla—8 Hrs Trek
Day 18: Fly Back to Kathmandu
Day 19: Departure Day
---
Cost and dates
We do small group trek or private trip as your request.
For quick information contact us at WhatsApp/Viber +977-9841815039
This trip will get redesigned and redeveloped as per your taste, for more information please e-mail us at mountainsunvalley@gmail.com
Itinerary
Day 1 Arrival in Kathmandu Airport(1360m)
After your arrival at Tribhuvan International Airport Kathmandu, you will be warmly greeted by our office representative and transferred to the hotel.
Day 2 Flight to Lukla (2840m) and trek to Phakding(2,652m)—4 Hrs Trek
A scenic flight to Lukla, then we head up the Dudh Koshi Valley on a well-marked trail.
Day 3 Trek to Namche Bazar(3,440m) – 6 Hrs Trek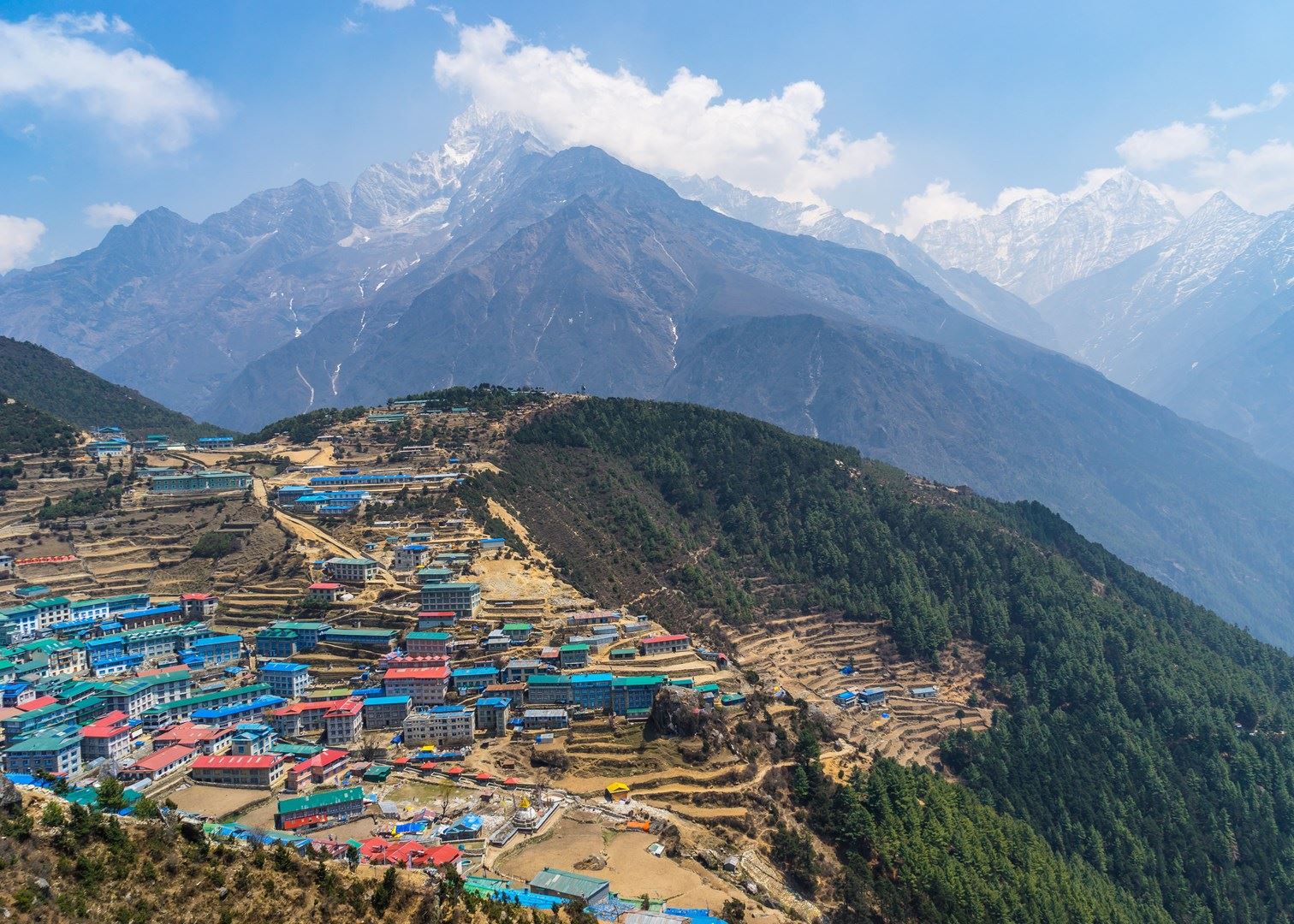 After breakfast at Phakding, we set out for the mountain junction town of Namche; we cross and re-cross the river on high airy suspension bridges. We then take a steep hike to Namche.
Day 4 Acclimatization Day
To acclimatize, you visit Khunde Hospital set-up by Sir Edmund Hillary or take a one hour walk up to the Everest View Hotel above Namche for the sunset view of Ama Dablam, Nuptse, Lhotse, and Everest. We then go to Khumjung where we visit a school established by Hillary.
Day 5 Trek to Tengboche(3,860m) – 6 Hrs Trek
we start our trek towards Tengboche enjoying superb view of Mt. Everest, Nuptse, Lhotse, Ama Dablam and close up view of Thamserku. The trail goes gradually down up to Kyangjuma. After having a relaxed lunch at Phunki Tenga, we have a little tough climb steep up through the pine forests while before we reach Tengboche.
Day 6 Trek to Dingboche(4,360m) – 6 Hrs Trek
We choose the upper trail for better views to visit Pangboche village and its ancient Monastery. We enjoy lunch with fantastic close-up views of Ama-Dablam. In the afternoon, go north to Pheriche or take the eastward trail beneath the towering north face of Ama Dablam. we descend into the river and begin the last and steepest climb of the day up to Dingboche.
Day 7 Trek Chhukung(4,750m) – 4 Hrs Trek
The trek goes through Imja Khola valley and sublime alpine landscapes, and some stone-walled fields. On the trail, we will also have spectacular mountain views of Mt. Lhotse, Mt. Ama Dablam and Island Peak.
Day 8 Rest Day
Today we will do a day trip to Nagarjun hillock. From Nagarjun we have great views of Lobuche East, Lobuche West, Lobuche peak, Thamserku, Kangtega and Amadablam. We then descend back to Chhukung.
Day 9 Trek to Lobuche(4,940m) via Kongma La Pass(5,535m) – 7 Hrs Trek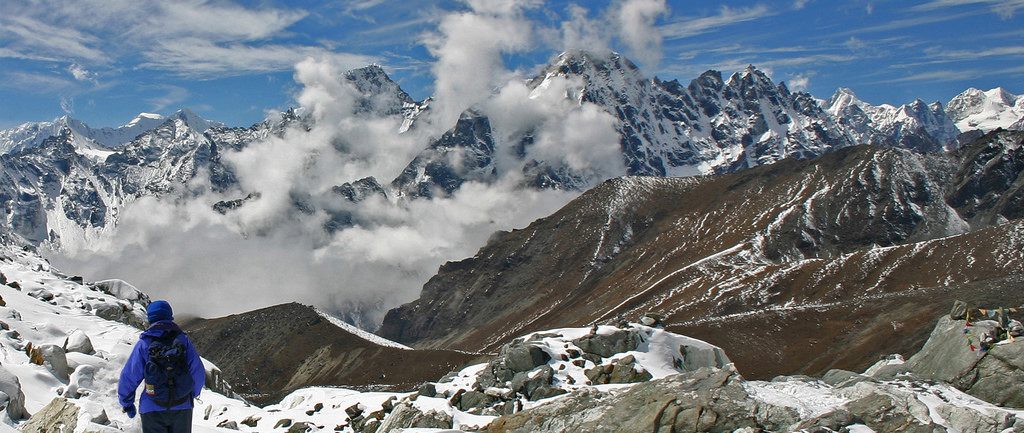 Just after some walk, we see great views of Island peak valley and jagged ridge of Amphu Lapcha. Behind us is the landscape of icy lakes ahead down of which is the Khumbu Glacier. The final descent is the toughest stage of the trek today, upon climbing the moraine on the far side, the trail turns north through Khumbu Glacier which culminates at Lobuche.
Day 10 Trek to Everest Base camp(5,364) – Gorakshep(5,170m) – 9 Hrs Trek
Today we climb through meadows and moraine stones steps to reach Gorakshep, by either climbing to Kalapathar or continue heading to Everest base camp. From Kalapathar, we get to see the entire south face of Mt. Everest and well-known peaks nearby; this also includes great sights of the skyline of the Tibet plateau.
Day 11 Trek to Lobuche(4,940m) via Kalapather(5,545m) – 9 Hrs Trek
Today we trek to get remarkable views of the sunshine gleaming on the face of Everest from Kalapathar. On reaching the peak of Kalapathar, we will have unbelievable views of the mountains that you will see only once in your lifetime. We return to the Lobuche.
Day 12 Trek to Dzongla(4,830m) – 4 Hrs Trek
Chola Lake spread below Mt Cholaste is a view to observe on our route. The lakes will give us a fresh view. Then after an hour of walk, we reach Dzongla.
Day 13 Trek to Gokyo(4,800m) via Chola pass(5,368m) – 8 Hrs Trek
The trip today is a little harder than earlier. We can have the enchanting view of the Chola Lake and the Ama Dablam which appears over a range of mountains in the south and Cholaste soars on the west.
Day 14 Rest Day
On the day, we will take rest on the Gokyo village and have the view of enchanting sites of Gokyo village. If the day is favorable then we can climb Gokyo Ri and enjoy the view of clear Everest Region.
Day 15 Trek to Marlung(4,210m) via Renjo La(5,360m) – 8 Hrs Trek
We will turn to the Renjo-La trail by Dudh Pokhari. After a walk of about 3 hours, we can reach Renjo-La where we can see the highest peak in the world Mt.Everest (8,848m), Mt Lhotse (8,516m), Mt. Cholaste (6,440m) and Mt. Tabuche (6,542m) smiling at us.
Day 16 Trek to Namche Bazar(3600m) – 6 Hrs Trek
we can see some eye-catching view of some mountains namely Thamserku, Katenga, Kusum Kangguru, etc. We can also see a monastery called Khari Goma you can find Laudo monastery.
Day 17 Trek to Lukla – 8 Hrs Trek
We trek to Lukla along the Dudh Koshi River. The trail goes steeply downward with rocky terrain. We pass through the rhododendron, pine and oaks forest and several snow-covered peaks.
Day 18 Fly back to Kathmandu
We take a scenic flight from Lukla to Kathmandu for about forty-five minutes. And then transfer to your hotel for refreshment.
Day 19 Departure Day
Today, we drop you to the international airport to fly back to your home.
Equipment List
Document List:
Valid passport
2 extra passport size photos
Photocopies of passport and visa form
Dollars in cash for purchasing Nepalese visa at Kathmandu airport
Credit cards, bank/ATM/cash machine cards for withdrawing funds from cash machines
Accessories:
Sleeping bag
Headlight with batteries
Water bottles
Toiletries
Small wash towel
Personal Clothing items:
Head:
Sun hat or scarf
warm fleece hat
Black Sunglasses
Upper Body:
T-shirts
Weight thermal tops
Fleece jacket
Fleece Wind-Stopper jacket
Waterproof jacket
Down vest or jacket
Hands:
Lightweight gloves
Heavyweight gloves or mittens with a waterproof shell outer
Lower Body:
Underwear
Hiking shorts
Lightweight cotton long pants
Light and expedition weight thermal bottoms
Fleece or wool pants
Waterproof pants
Feet:
Thick, warm wool hiking socks
Hiking boots with spare laces
Camp shoes (sneakers or sandals)
Personal Hygiene:
Two tubes lip sun cream, at least 1 large tube regular sun cream (min. factor 30), some after-sun lotion in case you do get a sunburn
toothpaste/brush set;
hand sanitizer gel
1 synthetic towel
Medical Supplies:
First-Aid kit
Anti-diarrhea pills (Imodium)
Anti-headache medication (Aspirin or Ibuprofen)
cold medicine.
antibiotics for stomach infection
anti-altitude sickness medication: Diamox (Acetylzolamide)
water purification tablets
Useful Info
This trek can be redesigned or redeveloped as per your taste, For more information please e-mail us at mountainsunvalley@gmail.com
FAQ
1. What preparations should I make before trekking?
It is always a good idea to involve yourself in doing physical exercises before trekking. Not that you have to be all athletic and muscular to trek. An average level of physical fitness will make the journey less stressful.
2.Is drinking water easily available?
Availability of drinking water is not the problem. The problem is the cost of it at higher altitude. As you gain height, the price of water rises up to 2-3$ per liter.
An alternative way of getting drinking water is by having your water bottles filled in tea houses. Tea houses will provide you boiled water for about 1$ per liter. They are completely safe for drinking.
3.What kind of food is available during trekking?
Food is not of any concern while trekking. You will get all kinds of cuisines. For breakfast, tea houses will provide you with eggs cooked in your preferred style along with pan cakes, bread butter, roti, and so on.
Various other dishes like pizza, pasta, momo, chowmein and many more are also available. The most preferred dish is Dal Bhaat. It is a typical Nepali meal. Rice is served with vegetable curry, lentils, tomato chutney and meat curry.
4. What are the risks associated with trekking?
Trekking is an extreme sport and does come with a lot of risks. Some unavoidable risks are avalanche, heavy rainfall, earthquake, landslide and other such natural calamities.
You might fall and injure yourself or catch some viral flue. The deadliest risk of trekking is AMS or Acute Mountain Sickness. This sickness occurs when a great altitude is gained and the body fails to adjust to the changing pressures associated with it. Anyone can fall a victim of the sickness and if not treated in time, it can be fatal.
5. Do I need a guide/porter to trek?
There is no such hard and fast rule that you must have one. But it is highly advisable to travel with them. Some of the treks cannot be trekked without a guide most of them are the restricted ones.
A guide is someone who will help you with navigations. He will also have a better idea about the places to live in and eat at can negotiated prices for you.
The trip can be easily booked
We provide budget friendly trips
We provide the best price in comparision
Transportation
Flight/Bus/Jeep
Max Elevation
5,554m/18,192ft
Route Map