Kailash Mansarovar Overland Tour
Trip Overview
Kailash Mansarovar Overland Tour
Kailash Mansarovar Yatra is known for its religious esteem, social criticalness, physical excellence and exciting nature. Kailash Mansarovar Yatra is considered as a standout amongst the most temperate Hindu Pilgrims in the meantime is the most troublesome for one to reach at the dwelling place Lord Shiva for preeminent salvation. Notwithstanding, with Kailash, Mansarovar Overland Tour, visit the troublesome territory of Kailash Mansarovar turns out to be simple and open with the cutting edge street framework at Nepal just as Tibet with the assistance of present-day transport framework.
Mount Kailash trekking visit is a standout amongst the most requesting and testing of treks for pioneers on the planet. The trek starts from Kathmandu with a beautiful drive to syabrubesi. After syabrubesi we will drive to kyirong on a bus. kyirong is the beginning stage of this tour. Coming to Kailash Mansarovar you will be honored with sacred shower and parikrama at lake Mansarovar and Mount Kailash to achieve your otherworldly voyage before coming back to Kathmandu. Mt. Kailash has for quite some time been an object of love for four Major religious, for Hindu, it is area of Shiva. It is likewise the dwelling place samvara multiarmed, furious god revered in the chakrasamvara Tantric cycle of Tibetan Buddhism. The joins of India additionally invert the mountain as the site at which the first of their holy people liberated. It is attempted by many individuals consistently. This tour course in Tibet is broadly known as the kora around the Mt. Kailash which is hallowed to four religions and a profoundly numinous place. Holding hugeness for the Hindus as the house Lord Shiva, it holds religious significance likewise for the Hindus and the Buddhists. Pioneers crowd to the mountain: Tibetans as well as Hindus and Buddhists from India to Japan, joined by Western and Chinese explorers who travel to Tibet to visit this heavenly mountain and the adjacent holy Lake Mansarovar.
Best Time For Kailash Mansarovar Overland Tour
By and large, the best seasons to go for a Kailash and Lake Mansarovar Tour by Overland are April to June and mid-September to early October, as the winter of Ngari area is a lot sooner than alternate parts of Tibet. What's more, the most energizing and intriguing period for this locale is around the fifteenth day of April in the Tibetan schedule. The most huge yearly celebration of Tibet, Saga Dawa falls on that day which is likewise the birthday of Buddha Sakyamuni. Contact mountain sun valley treks presently to join this otherworldly journey visit.
---
Trip Info
Destination: Tibet
Trip Routes: Kathmandu - Syabrubesi - Kyirong - Dongba - Chui Gompa - Darchen - Deraphuk - Zutulphuk Gompa - Dongba - Kyirong - Kathmandu
Activities: Trekking and Sightseeing
Altitude: 4890m (16043ft)
Trip Duration: 14 Day(s)
Trip Grade: Moderate to Strenuous
---
---
Outline Itinerary
Day 01: Arrive to Kathmandu
Day 02: Kathmandu Sightseeing and free day
Day 03: Drive to Syabrubesi (1,700m) (140km)
Day 04:Drive to Kyirong (about 47 km)
Day 05: Rest day in Kyirong
Day 06: Drive to Dongba via Saga (4,500m) (375 km)
Day 07: Drive to Chui Gompa (4,500m) (335 km) (Bank of Lake Mansarovar)
Day 08: Drive to Darchen (4600m) (24km)
Day 09: Trek to Derapuk (4,890m) (12km)
Day 10: Trek to Zutulphuk Gompa (4,790m) (22m)
Day 11: Drive back to Dongba (4,500m) (365Km)
Day 12: Drive back to Kyirong (3,600m) (225km)
Day 13: Drive to Kathmandu 172 km / 7 hours.
Day 14: Final departure
---
Cost and dates
We do small group trek or private trip as your request.
For quick information contact us at whatsapp/viber + 977 9841815039

This trip can be redesigned or redeveloped as per your taste, For more information please e-mail us at mountainsunvalley@gmail.com
Itinerary
Day 1 Arrive to Kathmandu
Arrive to Kathmandu. Transfer to hotel. Evening — Detail briefing on Kailash Manasarovar Yatra. Overnight stay at Kathmandu.
Day 2 Kathmandu Sightseeing and free day
After the morning breakfast we will go to visit Pashupatinath temple and Budanilkantha temple, return back to hotel have lunch, afternoon freeday for shopping & currency exchange for your personal use. Overnight in Kathmandu.
Day 3 Drive to Syabrubesi (1,700m) (140km)
After breakfast, group will departure to Duche/ Syabrubesi. 1950m- 154 km (Nepal- China Boarder ) by private tourist coach. 6-7hrs drive. Overnight stay at Syabrubesi.
Day 4 Drive to Kyirong( about 47 km)
After the morning breakfast drive towards friendship bridge (17km) of Kyirong boarder, and complete both immigration formalities which may take 2/3 hours approx. Cross the boarder, meet our Tibet Side Guide and drive towards Kyirong City (China called Jilong city). Overnight in Guest House.
Syabrubesi to Rasuwagadhi- 15km (1hrs)
Rasuwagadhi to Kyirong town - 35 (2 hrs)
Day 5 Rest day in Kyirong
Today you will have rest day in Kyirong for acclimatizing your body on the high land of Tibet. You can visit Kyirong market hill side. Overnight in Guest House at Kyirong.
Day 6 Drive to Dongba via Saga (4,500m) (375 km)
After breakfast, drive towards New Dongba for about 8 hours. En route you will pass Lalung La pass (5,300m), can view great Himalayas range and wide Tibetan dry landscape that make you feel travelling in mountain and desert. Beside that you can also see Mt. Shisha Pangma (8,000m) and Lake Pikuchu. On the way to Saga city you will cross the Holy Brahmaputra river. Overnight at Dongba.
Kyirong to Dongba: 270 km (7hrs drive)
Day 7 Drive to Chui Gompa (4,500m) (335 km) (Bank of Lake Mansarover)
Today is the important day because today we are going to have Darshan of Lake Manasarover. Overnight at Guest House at the bank of Lake Manasarover (Chui Gompa).
Dongba to Lake Manasarover: 360 km (7hrs drive)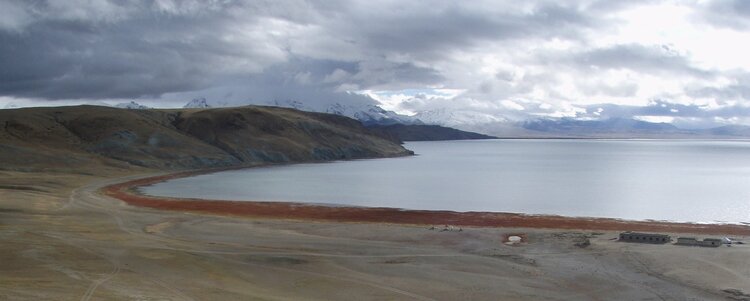 Day 8 Drive to Darchen (4600m) (24km)
After the morning breakfast and Puja, Hawan, Holy bath and Photo session we will drive towards Darchen by making Parikrama of Lake Manasarover clockwise. It takes around 2:30 hour to reach Darchen. and free day at Darchen. Overnight in hotel at Darchen.
Manasarover to Darchen: 40km 2 hour
Day 9 Trek to Deraphuk:(4,890m) (12km)
This is the first day of Kailash Parikrama. We should start our journey after breakfast as early as possible because today we have to walk continuously for about 6-7 hours. Overnight at Guest House in Deraphuk.
Darchen to Yama Dwar: 11km (30 minutes drive)
Yama Dwar to Deraphuk: 18km (5hrs trek)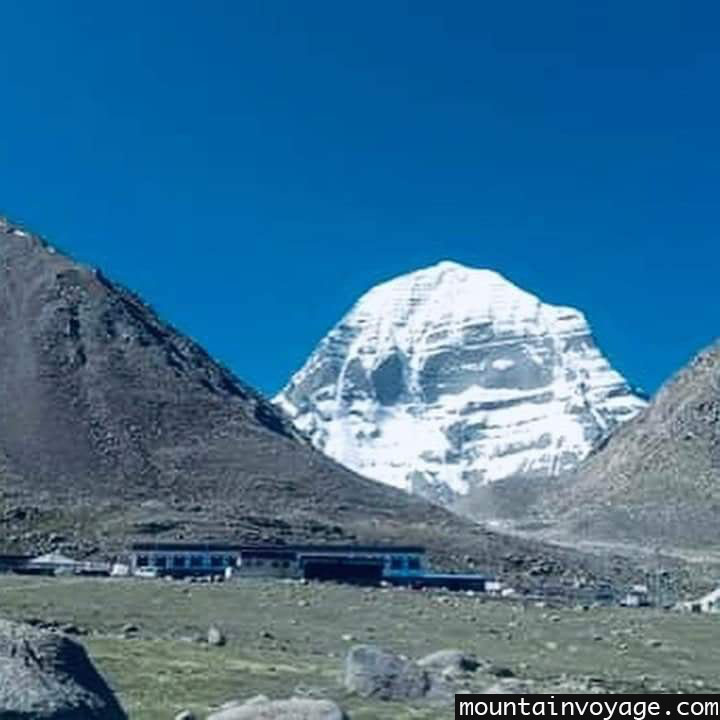 Day 10 Trek to Zhutulphuk Gompa (4,790m) (22m)
This day is very sensitive because the weather is unpredictable and trekking trial is little difficult in Doma- La Pass which is (5,600m) above sea level. Anytime snowstorm can be fall, En route we can have Darshan of Gaurikunda. Overnight at Guest House at Zhutulphuk.
Derapuk to Zhutulphuk: 22km (10 hours trek)
Day 11 Drive back to Dongba (4,500m) (365 km)
After short Trek (3 hrs) we finish our Parikrama then we will drive to Darchen. After lunch in Darchen we will drive towards Dongba. Overnight in Guest House at Dongba.
Zhutulphuk to Darchen: 08km (3 hrs trek)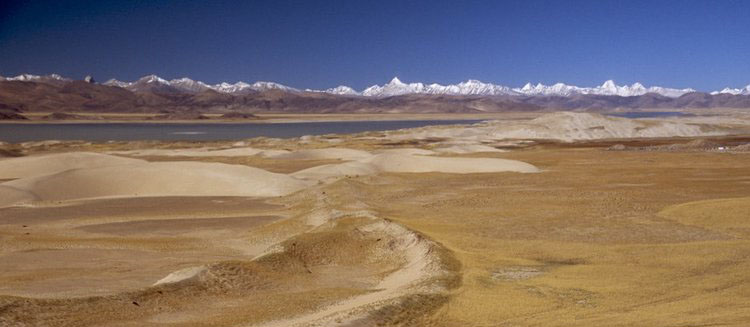 Day 12 Drive back to Kyirong (3,600m) (225km)
After morning breakfast our journey start towards Kyirong following same route via Saga. On the way we will take short break in Brahmaputra river then continue to Kyirong. Overnight in Guest House at Kyirong.
Dongba to Kyirong country: 270km (7 hrs drive)
Day 13 Drive to Kathmandu 172 km / 7 hours.
After morning breakfast ahort drive about 47km (friendship bridge) Kyirong boarder( cross the boarder after completing all the formalities of immigration in both China and Nepal side and drive back to Kathmandu (140km). Overnight at hotel in Kathmandu.
Kyirong to Rasuwagadhi boarder: 105km (2.5 hrs)
Rasuwagadhi to Kathmandu: 160km (7hrs)
Day 14 Final departure
Transfer to airport for departure flight.
Equipment List
Tops:
long sleeve hiking shirt

fleece jacket

Goretex rain jacket

Down jacket
Bottoms:
Synthetic or merino long underwear bottoms

A pair of waterproof rain or snow pants

A pair of fall or winter weight softshell pants
Feet and head:
Four pairs of wool hiking socks (keep one dry pair for sleeping)

Boots or trail running shoes.

Gaiters for snow and mud.

One synthetic or wool winter hat

Sunhat.
Other:
A day pack (10-20 liters)

One liter water bottles

Mid-weight winter gloves

Sunglasses

Chapstick or lip balm

Sun lotion

Diamox – for altitude sickness (consult your physician beforehand)

Bottle of oxygen

Small packs of tissues

Cell phone or camera

External battery charger

Hand sanitizer bottle

Chocolates, Chewing gum and dry fruits

Around 3500 RMB for Horse ride if you dont walk for Parikrama

A set of trekking poles

A sleeping bag liner

Single-use heat packs for keeping your hands and feet extra warm

Hot heating bags
Useful Info
Visa Information
Flying out to Tibet requires a Chinese visa and a Tibet Travel Permit which can both be acquired in Kathmandu with the help of a travel company (Tibet via Nepal). A valid visa for China isn't the same as a Tibet Travel Permit. Those with a Chinese traveler visa will at present need to apply for a Tibet travel permit. The permit is still required for remote foreign traveler travelling to Tibet from territory China. To obtain the permit you have to book a guide for your whole trip and pre-organize private transport for trips outside Lhasa. The trip outside Lhasa likewise requires extra permits which are arranged by the travel agent you are going with.
Passport
Chinese Visa — you can apply for one from a Chinese Embassy
Group Visa — who entry from Nepal to Tibet after Tibet tour traveler can visit China mainland with valid group visa.
Individual Visa will be cancel when we apply for group visa (if visa is in the passport)
Tibet Entry Permit — it is issued by the Tibet Tourism Bureau and is an absolute necessity for outsiders entering Tibet.
A few people who wish to travel to specific areas in Tibet must also obtain:
Travel Permit — it is required when you are planning to movement to closed areas in Tibet. These are issued after you land in Tibet.
Military Permit — it is acquired to travel to some militarily sensitive regions.
Safety Guidelines
Have at least 2 copies of Tibet Permit.

When you feel uncomfortable due to altitude change or have any troubles, report to your guide promptly.

Spend few days in Lhasa for acclimation and always follow a gradual ascent when travelling to higher places to avoid attitude sickness.

Refrain from heavy drinking and smoking.

Respect the religion, customs and avoid taboos in Tibet.

In most places, cash is only accepted. Do prepare enough and small change.
FAQ
For Overland trip :There will be jeep from Kathmandu to Kerung
TRANSPORTATION IN TIBET SIDE:
we will provide you A / C bus
- Kathmandu to Rasuwa gadi - Kerung (Nepal - Tibet border) tourist bus will be used. In Tibet, 4500 CC Toyota Landcruiser or Luxury Bus will be used. Routing Kathmandu - Rasuwa gadi- Kerung - Saga -Paryang -Mansarovar - Darchen - Dirapuk - Zuthulpuk - Darchen - Paryang - Saga -Kerung - Kathmandu.
In how many days would I finish Mt. Kailash Parikarma and how long it is?
Holy Kailash parikarma is approx 52 kms trek to be completed in 3 Days. Nightstay in Dirapuk & Zuthul-puk.
What is the best time to travel?
Holy Mt. Kailash yatra starts in the last week of April till September every year.
How many days would I need to hire the Horse and a Porter during the whole trip and how much it costs?
If you do not want to trek you can hire horse for parikarma. Parikarma (kora) that is for 3 days.
What are the hidden charges i.e. to be paid direct?
Additional expenses incurred due to delay, Accidents, Natural disaster & Political action. Following are the charges not included during yatra.
- Yak and Yak man cost
- Rescue or evacuation if need, Tibet visa separation cost
- Travel insurance, drink, laundry, Telephone/fax, Additional transportation cost.
- If you are not going for Kailash Parikrama due to any reason and staying back at Darchen for three days, you have to pay extra cost for accommodation and food in Darchen.
How much amount we should carry?
In Kathmandu you may use USD OR Indian Currency. For Tibet you will need Chinese Yuan only. for 11 days in Tibet we suggest you to carry approx Yuan 2500-3500 Per Person. Which you may need for emergency and to pay for horse during Kailash Parikrama.
You can exchange Yuan in Kathmandu or in Tibet border. Most of the yatri exchange their currency in Nepal-Tibet border.
How about accommodation facilities ?
5 Star hotel accommodation in Kathmandu and guest house accommodation in Tibet.
Do you provide some equipment?
We Provide:
Camping Equipments

Sleeping bags

Down jacket

Oxygen Back-up & Gaymo Bag

Walking stick

water bottle
Is it essential or good to commence the tour on a full moon day?
You can commence your yatra any day. Some people prefer to reach at Mansarovar or Kailash on full moon day.Its upto you.
Can we take children with age group below 10 years?
Yes, you can take children along with you at your own risk .Children and adult price is same.
Will one oxygen cylinder be sufficient for four of us?
Our team will provide oxygen cylinder in emergency.You may buy small portable cylinder in Tibet.
If we are not feeling comfortable or physically fit for parikarma then what we will do.
In such case, you must stay back in Darchen for 3 days and wait rest of the group in Darchen.
Do you have any age restriction?
No, we do not have any age restrictions. If you are physically fit you may travel but sometime Chinese Authority do not permit for people aged 70 and above to do the parikrama. We insist every one to consult with their doctor and must mention that you are going to high altitude. Many of old aged people travelled with us and have successfully done the parikrama.
The trip can be easily booked
We provide budget friendly trips
We provide the best price in comparision