Lhasa -Ganden-Samye
Trip Overview
Trip Highlights:
Magnificent panoramic view of 7000+ meter peaks of central Tibet
Different culture and lifestyle of Tibetan nomads and herders.
Adventure crossing high passes i.e. 5000+meter
Also exploring Tibetan civilization in Yarlung valley
We organize 11 Days Tibet trekking from Ganden to Samye in Tibet. Explore alpine landscapes, sacred sites and nomad camps and see their nomadic lifestyle by doing Lhasa Ganden Samye Trek. The best season for this dream trek is from beginning of May to end of October, summer can be wet but the mountains are at their greenest and there will be more opportunity to enjoy the wildflowers during this time of year.
Outline Itinerary
Day 01: Arrival in Lhasa
Day 02: Lhasa sightseeing
Day 03: Lhasa sightseeing
Day 04: Drive from Lhasa to Ganden
Day 05: Trek from Ganden to Yama Do
Day 06: Trek from Yama Do to Tsotup Chu Valley
Day 07: Trek to Herder's Camp (5 hours)
Day 08: Trek to Wango (6 Hours)
Day 09: Trek to Samye (2 Hours), Drive to Tsedang
Day 10: Explore the Yarlung Valley
Day 11 Drive to Gonggor airport and Final Departure
This trip can be redesigned or redeveloped as per your taste, For more information please e-mail us at mountainsunvalley@gmail.com
Cost and dates
We do small group trek or private trip as your request.
For quick information / contact us at whatsapp/viber + 977 9841815039
Or Drop us inquiry at mountainsunvalley@gmail.com

Itinerary
Day 01: Arrival in Lhasa
You will be warmly welcomed by our Tibetan guide and driver and accompany you to the holy city of Lhasa.
Day 02: Lhasa sightseeing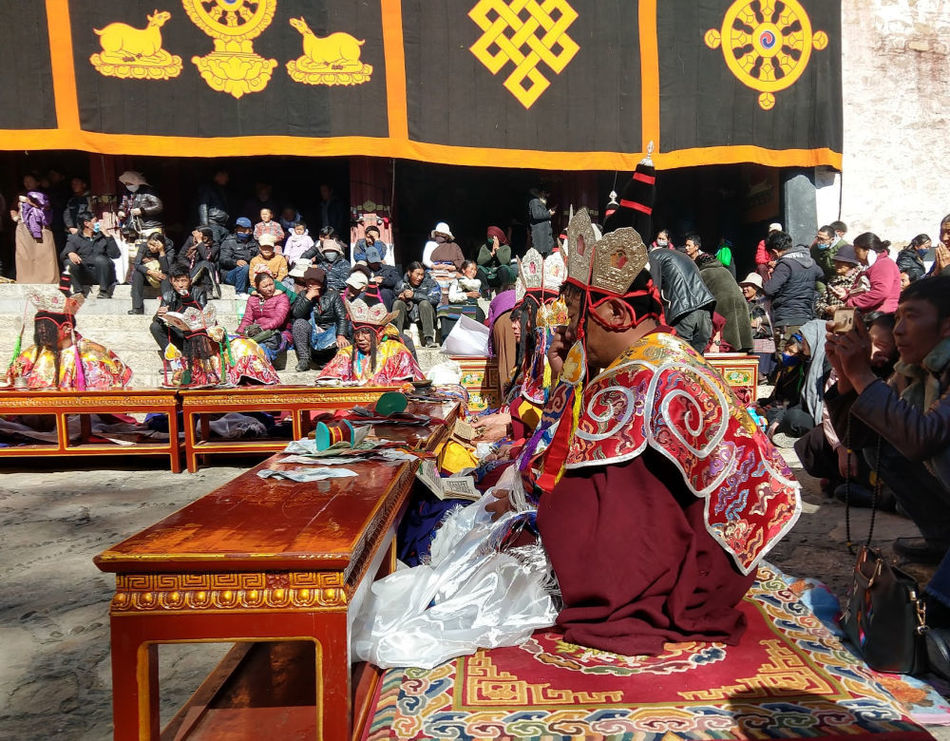 Today we will explore the beautiful city of Lhasa where we can see beautifully preserved Sera Monastery and you can see many of the pictures of Tibet and the buildings with white washed walls and golden roofs. In the afternoon we explore the Jokhang temple where you can see the devout Tibetans. Hundreds of visitors and monks visit this sacred shrine each day. Here you can experience more Tibetan culture and purchase some amazing crafts. Overnight at Hotel.
Day 03: Lhasa sightseeing
After breakfast, we will first have a glimpse of tremendous Potala Palace performing out from the rest of the city by perching on the red hill. To explore the ancient quarters of the Dalai Lama we will visit Potala Palace in the morning. This palace is regarded as one of the most beautiful palace in the Tibetan world. Also we will visit Drepung Monastery which was once home for over 10,000 monks. Drepung Monastery is still a beautiful sight to visit. Incredibly it was one of the few sights to escape the Cultural Revolution without widespread damage. Overnight at Hotel.
Day 04: Drive from Lhasa to Ganden
After an amazing experience of doing sightseeing of Lhasa city, today we will drive to Ganden where we will spent the whole day in exploring this wonderful area. No doubt, there are many attractions in this ancient town; however, the highlight for most is the first Gelugpa Monastery. Although this monastery is mostly in ruins over the years, there is still much to see. Many pilgrims walk around the monastery and we can observe the rituals along the way. Overnight at guesthouse.
Day 05: Trek from Ganden to Yama Do

After breakfast, we start an amazing 5 hours trek from Ganden to Yama Do. The first day of our trekking begins at the highest point on the Ganden Kora from where we walk along an ancient trail with wondrous views. Then we traverse the west side of the ridge before passing through an ancient village of Hepu. Later, we pass through Ani Pagong. We will end the day with an ascent towards Yama Do. Overnight in tent.
Day 06: Trek from Yama Do to Tsotup Chu Valley
The trek to Tsotup valley takes about 4 to 5 hours. First, we leave the valley and make our way through a steep gorge rising form the stream bank. We then climb over the Shug La and begin our climb down through treacherous boulder fields. Then we cross Tsotup Chu la large stream is meandering through the valley floor. A comfortable camp will be set up in one of the many herder fields. Overnight in tent.
Day 07: Trek to Herder's Camp (5 hours)
We start our trek following the Tsotup Chu towards the rocky mountain pass of Chitu La. After climbing this rocky pass we will quickly go down to a beautiful place to camping grounds and fields surrounding the stream. To find our campsite we will roam through quiet herder camps for nearly an hour. Another beautiful day of our trek is over. Overnight under tent.
Day 08: Trek to Wango (6 Hours)
The 6 hour trail gets wider and easier as we follow it through scrub forests in the main valley. we will see the beautiful streams and lush forests surrounding us as we walk further. Along the way we will see 15 types of scrub trees, rhododendrons in full bloom, and vast meadows that will take your breath away. Later in the afternoon we will join the Samye valley along the beautiful stream. The night will be spent at another comfortable campsite, not far from Samye. Overnight
in tent.
Day 09: Trek to Samye (2 Hours), Drive to Tsedang

In the beautiful chirping morning we will admire the widespread views from Pisha from where the entire Samye valley can be seen. Upon reaching the summit of Dragmar we can explore numerous temples. Then we will prepare for an awe-inspiring site as we meet up with the jeep trail and get even closer to Samye. Then we drive to Tsedang and spend the night there. Overnight at guest house.
Day 10: Explore the Yarlung Valley
This outstanding area is widely believed to be the cradle of all of Tibetan civilization and the valley of the tombs is located at the origin of the Tibetan people. During the day you are being given an opportunity to explore this splendid site. It was here where both the huge burial grounds and Yumbulakhang can be seen. Yumbulakhang is an amazing architectural site hovered on a cliff. It is one of the oldest buildings in all of Tibet. This will be last night in Tsedang. Overnight at hotel.
Day 11: Drive to Gonggor airport and Final Departure
We will drop you to the Gonggor airport for your onward journey.
Equipment List
For Head:
Sun hat or scarf
Light balaclava or warm fleece hat
Sunglasses with UV protection

Far upper Body:
T-shirts
expedition thermal tops
Fleece jacket
Wind-Stopper jacket
Down vest andjacket
For Hands:
Lightweight warm gloves plus thick gloves
Lower Body:
Hiking shorts
Lightweight cotton long pants
Light and expedition weight thermal bottoms
Fleece or wool pants
Waterproof (preferably breathable fabric) shell pants
For Feets:
lightweight inner socks
Thick, warm wool hiking socks
Hiking boots with spare laces
Camp shoes
Accessories:
Sleeping bag rated to below zero degrees
Headlamp
Small pad or combination lock-to-lock trek bag
Large plastic bags - for keeping items dry inside trek bag
Day-pack (approximately 2500 to 3000 cubic inches)
Water bottles
Toiletries
Small wash towel
Walking sticks

Useful Info
Visa Information
Flying out to Tibet requires a Chinese visa and a Tibet Travel Permit which can both be acquired in Kathmandu with the help of a travel company (Tibet via Nepal). A valid visa for China isn't the same as a Tibet Travel Permit. Those with a Chinese traveler visa will at present need to apply for a Tibet travel permit. The permit is still required for remote foreign traveler travelling to Tibet from territory China. To obtain the permit you have to book a guide for your whole trip and pre-organize private transport for trips outside Lhasa. The trip outside Lhasa likewise requires extra permits which are arranged by the travel agent you are going with.
Passport
All who intend to enter Tibet must hold at least 6 months valid passport.
Passport - valid for 6 months
Chinese Visa — you can apply for one from a Chinese Embassy or through China Highlights (who entry from China)
Group Visa — who entry from Nepal to Tibet after Tibet tour traveler can visit China mainland with valid group visa.
Individual Visa will be cancel when we apply for group visa (if visa is in the passport)
Tibet Entry Permit — it is issued by the Tibet Tourism Bureau and is an absolute necessity for outsiders entering Tibet.
A few people who wish to travel to specific areas in Tibet must also obtain:
Travel Permit — it is required when you are planning to movement to closed areas in Tibet. These are issued after you land in Tibet.
Military Permit — it is acquired to travel to some militarily sensitive regions.
Weather InformationSafety Guidelines
We recommend you to go through our following safety guidelines and stay tune with latest happening.
Have at least 2 copies of Tibet Permit.

Keep your belongings properly.

When you feel uncomfortable due to altitude change or have any troubles, report to your guide promptly.

Never rush to visit attractions shortly after you arrive in Lhasa.

Shop around but avoid undue bargaining with street vendors and never buy wildlife and unknown Tibetan herbal medicine and fake products.

Take your money and important belongings with you all the time.

Spend few days in Lhasa for acclimation and always follow a gradual ascent when travelling to higher places to avoid attitude sickness.

Refrain from heavy drinking and smoking.

Respect the religion, customs and avoid taboos in Tibet.

Pay special attention to unique alpine climate (such as sunburn, dramatic temperature change, etc.)

Keep necessary medicines at the consult of your doctor.

Never travel alone at night or venture into unknown places without informing your guide.

In most places, cash is only accepted. Do prepare enough and small change.

If an emergency arises, report it to your guide promptly.

Don't carry any documents or papers related to Dalai Lama or free Tibet.
We also recommend not carrying any guide book to Tibet.
FAQ
A. General Information:
1. When is the best time to visit Tibet?
The best time to visit Tibet is from April to end of october.
2. What currency do I have to use in Tibet?
Currency in Tibet is Renminbi (RMB). Foreign currencies cannot be used directly. Foreign currencies may be converted into RMB at all banks, bank branches or hotels at the exchange rate quoted on the foreign exchange marker on the day.
3. What credit cards are accepted in Tibet?
Most of the internationally accepted credit cards are usable in Lhasa. They include: Visa, MasterCard, American Express, Diner's club, and the JCB card of Japan. Credit cards are accepted only in large shopping stores. Credit card symbols are displayed in the visible place in shops and hotels indicating credit cards are accepted.
4. What methods of payment do you accept?
We accept major two ways of payment:
Wire transfer [we will send you our company bank account info via email];
Credit card [we will send you a credit card authorization letter via email]
B. Travel Document:
1. What documents do I need if I am planning to travel to Tibet?
You need to have at least six months valid passport, a valid China visa (if you are coming from mainland china) Tibet group visa (if you are coming from Katmandu we will do in Kathmandu) and a Tibet travel permit.
2. Do I need Visa for China?
If you are travelling to Tibet from mainland china then you need a valid Chinese visa which you can obtain at Chinese embassy in your home town
3. Do I need double/multi-entry visa if I come to Tibet from China mainland and return China mainland after the trip?
No, because Tibet is a part of China, if enter Tibet from other cities in China mainland and after the trip in Tibet, get back to China mainland again, only a single entry visa is required.
4. Do I need any special requirements on Tibet visa while coming from Kathmandu?
Before you are coming to Lhasa from Katmandu, you must get Tibet group visa from Katmandu because no matter you've already got the visa in your country or not, you must get a visa in Katmandu.
5. What's the procedure to get Tibet group visa in Katmandu?
Step 1: After you book the tour with us, provide us your copy of passport.
Step 2: We will apply the 'Visa Invitation Letter' from Tibet Tourism Bureau with your copy of passport and send it Kathmandu.
Step 3: After your arrival in Katmandu, we will ask your original passport, and then we go to the Chinese Embassy to apply the Tibet group visa. With the 'Visa Invitation Letter', you can get your Tibet group visa easily. Normally, it will take 3 working days.
6. Can I get the Tibet Travel Permit easily?
You can get the Tibet Travel Permit easily through a travel agency except diplomats, journalists, and government officials who should travel to Tibet under the arrangement by the Foreign Affairs Office of Tibet Government.
7. When do I need to apply for the Tibet travel Permit?
You need to apply for the travel permit at least 30 days prior to your entry date.
C. Tour Booking:
1. Do you offer join-in tour or can I join a group?
Yes, we do have Group Tour or joining Tour. Let us know your interest and time then we will provide you options to join the trips.
2. What is your cancellation policy?
More than 30 days before trip start date – 10% of land cost
15-30 days before trip start date – 20% of land cost
7-14 days before trip start date – 30% of land cost
4-6 days before trip start date – 50% of land cost
Less than 4 days before trip start date – 100% of land cost
Lodging and Dining:
1. What are the hotels like in Tibet?
Hotels in small cities and the Everest Base Camp are very simple.
2. Does the hotel room have access to internet?
Tibet large and deluxe hotels usually provide wireless access to internet for guest rooms. But there are still some hotel rooms, not all, in Lhasa and rest Tibetan cities don't have access to internet, so you should inquiry your guide for internet access hotels.
3. is there 24-hour hot water running?
24 - Hour hot water supply depends on different hotels and hostels where you can check first, do some preparation or choose an available one in major cities like Lhasa, Shigatse and Gyantse. But it's hard to find perfect one in remote and harsh places.
4. What can I eat in Tibet?
Tibet owns its distinctive Tibetan food, like Tsampa,Tibetan Noodle, Momo, Milk Curd, Yogurt and local dishes. With the development of tourism, there are more cuisines brought into Tibet, e.g. Sichuan Cuisine, western food, Nepali food, Indian food and many other Chinese cuisines. In Lhasa, tourists have a wide range of choice while limited options in remote towns and areas.
Transportation:
1. What vehicle do you use in Tibet?
If your arranged tour is mainly in downtown Lhasa, you can easily get to Potala Palace, Jokhang Temple, Barkhor Street or nearby attractions at short distance by walking or taking a local rickshaw. If you want to tour around Lhasa, we suggest you to use minivan as the road condition around Lhasa is pretty good, and the minivan cost less as well.
Safety & Health
1. What medicines should prepare before coming to Tibet?
Here are the lists of medicine:
Diamox (most common medicine for the high altitude sickness).
Aspirin
flu tablets
throat lozenges
nasal decongestants.
2. What to do, if started symptoms of High altitude sickness?
Get adequate rest and drink lots of water, Administrating oxygen can help if the symptoms are worsening. The real treatment for acute high altitude sickness is descending down to lower altitude as soon as possible. If the patient doesn't show any improvement in 3 to 4 hours. patient should go to hospital for proper treatment. High altitude sickness can be deadly if it is not treated accordingly.
3. Who should avoid visiting Places of higher altitude?
Following are categories of people who should avoid visiting Places of higher altitude;
Women with an advance pregnancy
Children under three years of age
Traveler with severe fever, cold
Patient with Acute pulmonary diseases
Travelers with acute cardiovascular diseases
10
The trip can be easily booked
We provide budget friendly trips
We provide the best price in comparision
Transportation
Flight and Drive
Accomodation
Hotel/Lodge/Tented camp
Route Map