Sirubari Village Homestay
Trip Overview
Forest covering around forty percent of Nepal, this small country is the very essence of greenery with mountain views, trekking, mountaineering, river rafting and many more. Mountain Sun Valley has developed this package to one of the most beautiful villages in Nepal, Sirubari Village, for the trekkers who are seeking for easy trek route and exquisite scenarios of amazing landscapes and Annapurna Ranges.
Sirubari village, PATA Gold awarded village in May 2001, is one of a village located South-West from Pokhara at Syangja district of Nepal. After a short drive from Pokhara followed by a pleasant walk, stone's tiled foot trials with attractive greenery and mountain views, there comes Sirubari village full of villagers who are friendly and are passionate about tourism and culture.
With local guides and homestay facilities at their house, you can also experience typical Nepalese family culture and tradition. We begin the Sirubari tour with the fantastic tour of Kathmandu Valley. After that, we drive to Pokhara. We can get to Sirubari Village from Pokhara with a short drive and trek. You can explore the vibrant and prosperous local Gurung culture and lifestyle that reflects the local identity of Nepal villages.
---
Trip Info
Destination: Syangja, Nepal
Trip Routes: Kathmandu - Pokhara - Sirubari Village - Pokhara - Kathmandu
Activities: Trekking and Sightseeing
Altitude: 1,700m (5578ft)
Trip Duration: 10 Day (s)
Trip Grade: Easy
Season: March to May and September to December
---
---
Outline Itinerary
Day 1: Arrival in Kathmandu/1300m (4265ft)
Day 2: Kathmandu Valley Sightseeing.
Day 3: Drive to Pokhara/800m (2624ft)
Day 4: Drive to Arjunchaupari & Trek to Sirubari Village/1700m (5578ft)
Day 5: Sirubari Village; Explore
Day 6: Excursion Dahare Hill
Day 7: Trek to Arjunchupari and drive to Pokhara
Day 8: Sightseeing in Pokhara,
Day 9: Drive back to Kathmandu
Day 10: Departure
---
Cost and dates
We do small group trek or private trip as your request.
For quick information contact us at WhatsApp/Viber + 977 9841815039
This trip will get redesigned and redeveloped as per your taste, for more information please e-mail us at mountainsunvalley@gmail.com.
Itinerary
Day 1 Arrival in Kathmandu
Upon your arrival at Kathmandu Airport, we will pick up you and drive you to your booked hotel.
Day 2 Kathmandu Valley Sightseeing
You will do some city sightseeing tours to world heritage sites; Pashupatinath, Boudhanath, Kathmandu, Durbar Square, and Swayambhunath.
Day 3 Drive to Pokhara
Take a tourist bus early in the morning to Pokhara. You will reach Pokhara at around 6 hours.
Day 4 Drive to Arjunchaupari & Trek to Sirubari Village
After breakfast, drive to Arjunchaupari and then begin a trek to Sirubari village for 4 hours only.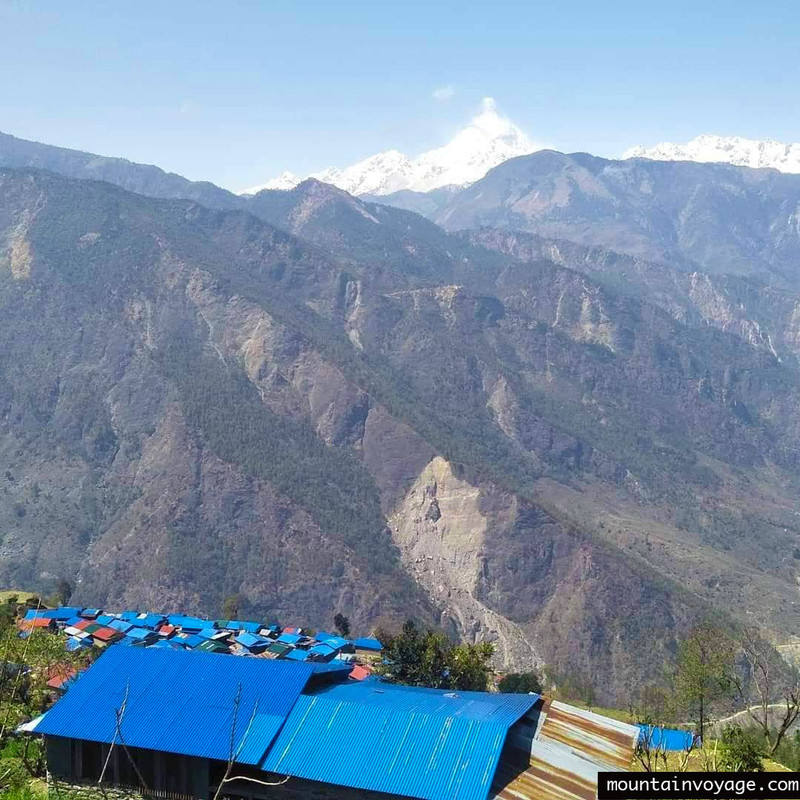 Day 5 Sirubari Village; Explore
You will explore the local area and the surrounding villages. You can also accompany your host family as they go on to tilt their farms, tend to the animals and such daily life chores. Looking forward to cultural programs in the evening.
Day 6 Excursion Dahare Hill
Today, you will take a short climb to Dahare Hill, considered as the highest point of Pokhara. From this viewpoint, you can shoot grand pictures of the Himalayas, from the Mt. Manaslu in the east to the Dhaulagiri range with Mt Macchapucchre and Annapurna range.
Day 7 Trek to Arjunchupari and drive to Pokhara
After having breakfast at the lodge, we will take the same hiking route and take a drive to Pokhara and check in to the hotel.
Day 8 Sightseeing in Pokhara,
You will do a sightseeing tour of Pokhara including Sarangkot Sunrise, Seti Gandaki, Devi's fall, Cave, Bindhyabasini Temple and many more.
Day 9 Drive back to Kathmandu
You will drive back to Kathmandu by tourist bus after having breakfast. Evening you will do some shopping around the local market.
Day 10 Departure
We will drop you to the international airport for your departure 3 hours before your flight and wish you a safe journey.
Equipment List
Head:
Sun hat or scarf
warm fleece hat
Black Sunglasses
Upper Body:
T-shirts
Weight thermal tops
Fleece jacket
Fleece Wind-Stopper jacket
Waterproof jacket
Down vest or jacket
Hands:
Lower Body:
Underwear
Hiking shorts
Lightweight cotton long pants
Light and expedition weight thermal bottoms
Fleece or wool pants
Waterproof pants
Feet:
Thick, warm wool hiking socks
Hiking boots with spare laces
Camp shoes (sneakers or sandals)
Personal Hygiene:
Two tubes lip sun cream, at least 1 large tube regular sun cream (min. factor 30), some after-sun lotion in case you do get a sunburn
toothpaste/brush set;
hand sanitizer gel
1 synthetic towel
Useful Info
Sirubari Village is known for its culture and beauty of beautiful scenarios of mountains. This trip is preferred for tours from School and Colleges, family tours and aged people as it provides different taste of Nepal trekking routes with comfortable and pleasant walk.
For more Information:
FAQ
1: How do I book the package tour to Nepal?
If the tour itinerary given in the website suits you, you can book online, e-mail, call or fax us. It is also possible to customized the itinerary as per your desire.
2: When is the best season to travel to Nepal?
The best season to visit Nepal is from March to May and September to November.
3. Do we need to cover travel insurance?
Yes, we advise you to get your insurance cover from your respective country.
4. What kind trekking guide do you use for the trip?
We use honest, experienced and English speaking guides for the trip.
5: Should I feel embarrassed expecting a porter to carry my pack?
Definitely not. If you can afford a personal porter it is highly recommended.
6: Is Communication to home possible on trek?
There are telephones in many villages along the popular trekking routes from which you can make international calls. We inform daily trekking report to your relatives to home.
From USD950pp
The trip can be easily booked
We provide budget friendly trips
We provide the best price in comparision
Accomodation
Hotel and Lodge
Route Map
טרק הכפר הטוב ביותר בנפאל
Nijen Prem
הטרק הזה הוא מלא בתרבות אוטנטית, נוף מדהים של הרי נפאל, כפר נפאלי טיפוסי, אנשים מעניינים ונעימים. מתאים לסטודנטים, לקבוצות משפחתיות עם ילדים, וגם לאנשים מבוגרים.