Tour to Muktinath via Helicopter
Trip Overview
Muktinath Helicopter Trip Highlights:
Kathmandu to Muktinath by a Thrilling Helicopter Tour.
Visit Muktinath Temple, a holy shrine for Hindus and Buddhists.
Amazing view of the world's eight highest peak-Mount Manaslu (8,163 m).
Awesome view of Begnas Tal, Rupa Tal, Fewa Tal, & Pokhara valley.
Views of Marvellous desert of Mustang District.
Views of Holy Gandaki Rivers, Jomsom, Kagbeni & Beautiful views of Muktinath Village and Valley.
Views of Panoramic Towering snow-capped Mountains Like Annapurna, Tukuche Park, Dhaulagiri, Fishtail, Nilgiri and so on
Helicopter Land and stop for Breakfast & also for Short Landing.
Holy bath under 108 chilled water spring and 2 holy Kunda.
Worship Vishnu God.
Witness variety of floras and faunas.
Muktinath Helicopter Tour from Kathmandu or Pokhara
Thousands of Hindu and Buddhist pilgrims visit Muktinath every year. Muktinath Helicopter tour package is the best option to visit the sacred Muktinath temple in a very short period without any physical difficulties. Muktinath Helicopter tour either from Pokhara or Kathmandu offers beautiful Himalayan views two above 8000m mountains ( Mt. Dhaulagiri 8167m & Mt. Annapurna I 8091m) with 18 snowy capped mountains, Holy Muktinath temple, Tibetan monasteries and beautiful landscapes.
Muktinath Heli tour can be done either from Kathmandu or Pokhara. However, during Heli tour, you'll be flying just above the Annapurnas. Likewise, the tour is doable for any age group following some special precautions. If you do not have an ample amount of time for trekking up to the Muktinath temple or you want to do it in a luxurious way then the Muktinath Heli tour is the perfect option for you.
Beside Muktinath Helicopter tour, Annapurna base camp Helicopter(Heli) tour is also doable if you wish to go to the basecamp of the Annapurna massif.
Outline Itinerary
Transfer to Airport.
Fly from Kathmandu to Muktinath.
Perform Pooja and Havan(worshipping) for 30 minutes.
Fly back to Kathmandu.
Drive back to Your Hotel.
This trip can be redesigned or redeveloped as per your taste, For more information please e-mail us at mountainsunvalley@gmail.com
Cost and dates
We do small group trek or private trip as your request.
For quick information / contact us at whatsapp/viber + 977 9841815039
Or Drop us inquiry at mountainsunvalley@gmail.com

Itinerary
Day 1: Fly from Kathmandu to Muktinath Temple (3,710m) by Helicopter and Return back to Kathmandu
Early morning,we will come to pick up you on your hotel and drive towards Kathmandu domestic airport for Muktinath Helicopter tour.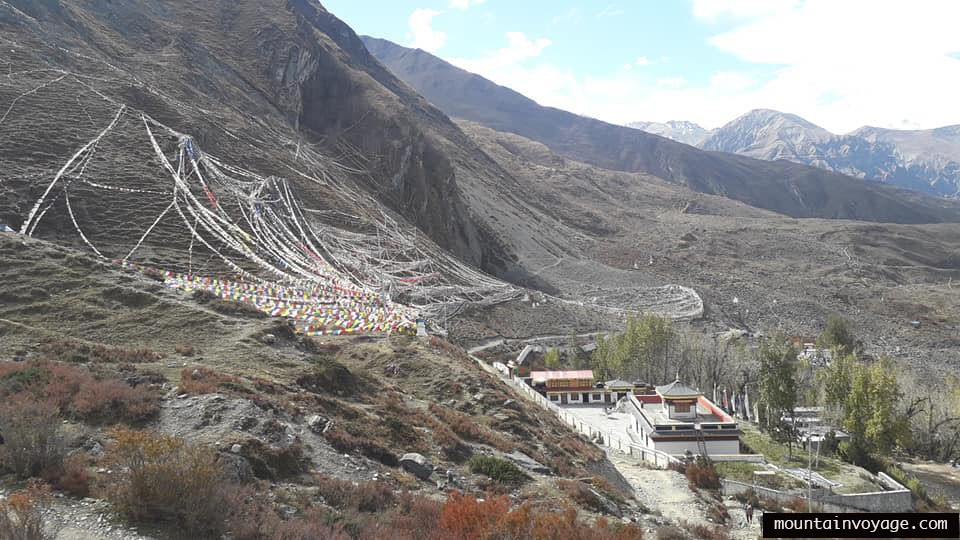 Then, we will take a Helicopter flight towards Muktinath.
After view from air of breathtaking landscapes, we reached muktinath, there we can explore the area, see an eternal flame, Worship at Muktinath temple, and take a holy bath at 108 taps.
After the completed of deeds and taking breakfast, we take flight back to Kathmandu.
Equipment List
Sunglasses
Down-jacket
Hats
Gloves
Trousers
Bottle full of water
Towel
Camera
Useful Info
Muktinath Helicopter tour Duration
The total duration for Pokhara to Muktinath by Helicopter flight around 2.5 hours

The total duration for Kathmandu to Muktinath by Helicopter flight around 3.5 hours
Best time to travel Muktinath
Spring (March to May) and autumn (September to November) are the perfect seasons for planning a tour towards Muktinath via Helicopter. The most essential thing to remember is about permit. However, two permits of Annapurna Conservational Area Project Permit (ACAP) and Trekkers Information Management System Permit (TIMS) are required to explore this territory.
Important Note:
If the weight of an individual exceeds 100 KG, Then he/she needs to purchase two seats.
The company takes the right to cancel the flight in case of an emergency or bad weather.
If the flight cancels due to the bad weather everyone gets full refunds.
FAQ
Some Important questionnaires related to Muktinath tour via heilicopter
1. How to Travel to Muktinath Temple?
Answer: You can travel to Muktinath either via Domestic Flight or via Ground transportation. Most of the travelers prefer to travel via a domestic flight because the road condition is not that much good in rainy season there could be landslide.
2. What permits are required to visit this temple?
Answer: Muktinath temple lies in conservation and trekking zone. So, two permits are required to enter in this area. One is Annapurna Conservation Area Project Permit (ACAP) and another is Trekker's Information Management System Permit (TIMS). It is restricted to enter in this zone without collecting these two permits.
3. Which is the best time for Muktinath Tour?
Answer: The best time for Muktinath tour is March-May and September - November.
4. How do I book the package tour to Nepal?
Answer: If the tour itinerary given in the website suits you, you can e-mail, call or fax us. It is also possible to customize the itinerary as per your desire.
5. What things to carry during Muktinath Tour?
Answer: You don't need any such special items for this trip. You can carry your luggage depending upon the month you travel. Jomsom is a windy place so ever month you travel you need to carry a wind sitter jacket for the Jomsom Muktinath area. Other things it is as normal as in another normal trip.
6. What type of Accommodation available in Muktinath Yatra?
Answer: In big cities like Kathmandu and Pokhara there are budget Hotels to Deluxe 5 star Hotels available whereas in Jomsom Muktinath region there is basically normal guest house available which are well equipped with attached bath facility. There is also one deluxe Hotel available at Jomsom.
7. What type of food available during Muktinath Tour?
Answer: You can get any type of food such as Indian or continental, vegetarian or nonvegetarian depending upon your choice in Jomsom Muktinath region.
8. Is it safe to travel by Helicopter?
Answer: Yes, it's safe travel with helicopter in Nepal.
9. Do we need to cover travel insurance?
Answer: Yes, we advise you to get your insurance cover from your respective country.
10. If trip is cancel because of bad weather?
Answer: If Trip is cancel because of Bad weather, we will confirm for next day morning but if you do not have sufficient time or you are going for Next destination you will get full refund.
11. How many people can go in one helicopter?
Answer: Up to 5 people can go with Helicopter for Muktianth.
12. Do we have to pay entry fees?
Answer: No, all the Entry fee & permit will be included in to our price.
13. If I want to change the date before arrival?
Answer: If you need to change the date before arrival we can change without any charges but if permit has already issued we cannot change the date.
14. Is Communication to home possible on trek?
Answer: There are telephones in many villages along the popular trekking routes from which you can make international calls. We inform daily trekking report to your relatives to home.
15. Can I visit Pokhara and stay there instead of returning back to Kathmandu?
Answer: Yes, you can. After Muktinath Yatra, you can land at Pokhara and stay there. The helicopter will be returned to Kathmandu. You can come back to Kathmandu either by Tourist Bus, Private Car or scheduled flight. By road, it takes seven hours and 25 minutes by flight.
The trip can be easily booked
We provide budget friendly trips
We provide the best price in comparision
Transportation
Helicopter
Max Elevation
3,710m / 12,171 ft.