Trek to Annapurna with Namun La Pass
Trip Overview
Namula Pass is an exciting trekking route in the Annapurna region of Nepal. The Namun La (5,560m), a high pass connecting the old trading route between Pokhara and Manang. This route proved to be a unique and less-trekked way to connect onto the main Annapurna Circuit Trail. Mountain Sun Valley Trek offers the opportunity to walk in these old footsteps across a spectacular region of Nepal's Annapurna Himalayas.
Recently the trail to Dudh Pokhari (Milk Lake) and the Namun La Pass are combined as new the trekking route that connects Lamjung, Manang and Kaski districts of Nepal and provides a little-known and little-traveled access onto the great Annapurna Circuit. History of the Namun La Pass tells that Tamu community (now Gurung) of Nepal settled in this area after crossing the pass from Tibet. This region is also known as Tamuwan and, at one time, had a king and palace which remaining can still be seen.
The belief that bathing in the chilly Dudh Pokhari can wash away a lifetime of sins gathers pilgrims and devotees from all around Nepal during the Janai Purnima (Sacred Thread Ceremony) to take bathe on this holy lake. Many devotees think this place is a gateway to heaven. During Namun La Pass Trek, you'll encounter a wide range of sights; picturesque villages, terraced farmland, glacial lakes, steep-sided gorges, and raging rivers.
Namun La Pass is one of the most fascinating trail in the remote Himalayan of Nepal, a paradise unexplored. The marvelous and off beaten trek allows to unlock the interesting places, people, villages, valleys and serene forest of pines, oak, and rhododendron. The trek also offers the spectacular scenery of Annapurna, Manaslu, Lamjung and other popular Himalayan ranges.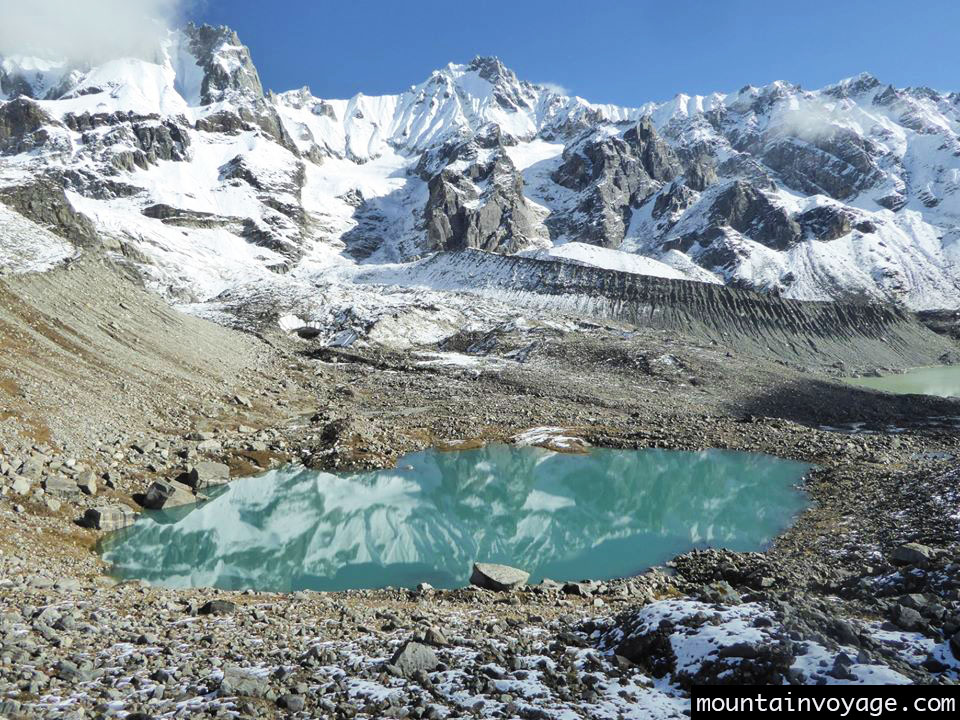 ---
Trip Info
Destination: Kaski, Nepal
Trip Routes: Kathmandu - Siklis; Pokhara - Tasa - Kori - Thulo Lekh - Dudh Pokhari - Danfe Kharka; Namun Pass - Timang - Dharapani - Kathmandu
Activities: Trekking and Sightseeing
Altitude: 4570m (14993ft)
Trip Duration: 13 Day (s)
Trip Grade: Medium
Season: March to April and September to November
---
---
Outline Itinerary
Day 01- Arrive Kathmandu and transfer to the hotel
Day 02- Fly to Pokhara and Drive to Siklis, 1,800m/5,906ft - approximately 5 hours.
Day 03- Trek from Siklis to Tasa, 2,350m/7,710ft - 5 hours.
Day 04- Trek from Tasa to overnight camp at 3,500m/11,483ft - 6 hours.
Day 05- Trek to Kori, 3,850m/12,631ft - 3 hours.
Day 06- Trek to Thulo Lekh, 4,100m/13,451ft - 3 hours.
Day 07- Trek to Thurju, 4,080m/13,385ft - 6 hours.
Day 08- Trek to Dudh Pokhari.
Day 09- Trek over Namun Pass, 4,850m/15,912ft - 4½ hours. Descend to Dafne Kharka , 4,250m/13,946ft - 2 hours.
Day 10- Trek to Timang 2,750m/9,022ft - 4 hours.
Day 11- Trek to Dharapani 1,900m/6,234ft - 2½-3 hours.
Day 12- Drive to Kathmandu- 10 hours.
Day 13- Departure
---
Cost and dates
We do small group trek or private trip as your request.
For quick information contact us at WhatsApp/Viber +977-9841815039

This trip can get redesigned or redeveloped as per your taste, for more information please e-mail us at mountainsunvalley@gmail.com
Itinerary
Day 1 Arrive Kathmandu and transfer to the hotel
Upon your arrival at Kathmandu, we will come to pick up you at the airport and drop you to your location/booked Hotel.
Day 2 Fly to Pokhara and Drive to Siklis, 1,800m/5,906ft - approximately 5 hours
Today, you will fly to Pokhara. This is a spectacular and exciting flight passing over the Himalayan foothills. After reaching Pokhara, you will drive towards Siklis for about 5 hours. The drive is highly scenic, with great views of the Lamjung Himal and Fishtail Peak.
Day 3 Trek from Siklis to Tasa, 2,350m/7,710ft - 5 hours
After having a good breakfast, you start your trek towards Tasa. You will see fantastic views of the Lamjung Himal and Annapurna II on your trek. After about 1½ hours you reach a suspension bridge at 1,400m/4,593ft, cross it, and then begin climbing on a stony trail. After some hours, you will reach Tasa where you will have a camping night.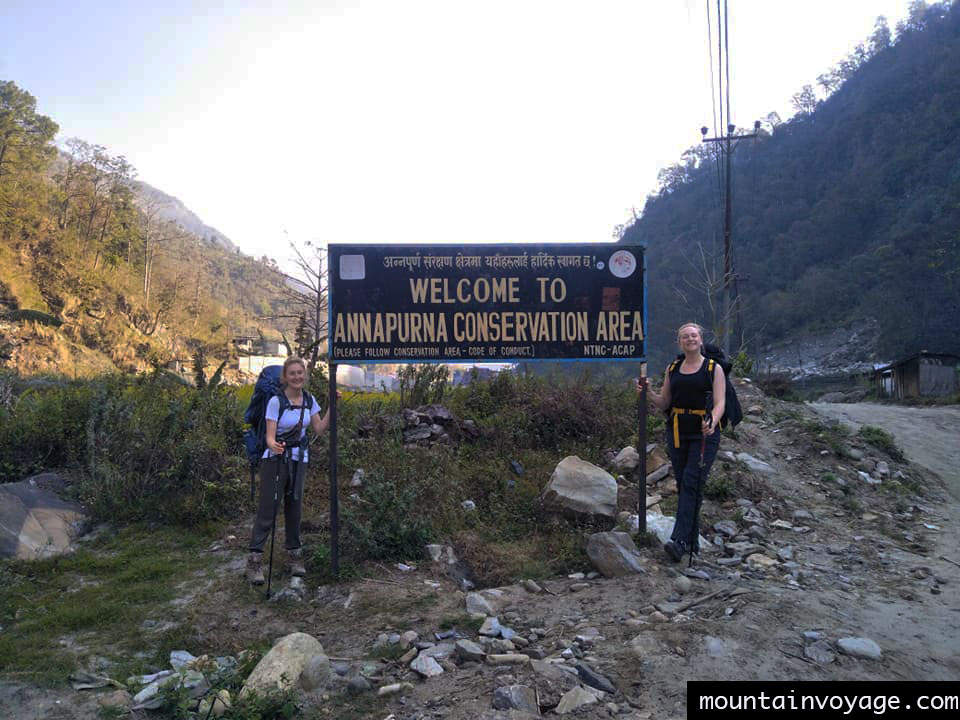 Day 4 Trek from Tasa to overnight camp at 3,500m/11,483ft - 6 hours
You can enjoy the early morning views at your campsite before heading off on a trail. You continue your gradual ascent through oak forest, passing the odd area of grazing land. This uninhabited region is home to Himalayan black bear, danfe, musk deer and Himalayan Thar. After around three hours walking, you will have lunch in the forest near the water tank This spot is at 3,175m/10,417ft and next to an ACAP sign to Dudh Pokhari (the holy lake). The trail continues upwards through rhododendron and bamboo forest, passing sheep grazing clearings.
Day 5 Trek to Kori, 3,850m/12,631ft - 3 hours
Today's walk involves approximately 3 hours of ascending through the forest to reach Kori, which has a stone shelter, a goat hut, and an ACAP sign. It's a wild, remote place with stunning views of the surrounding hillside and snow-capped peaks.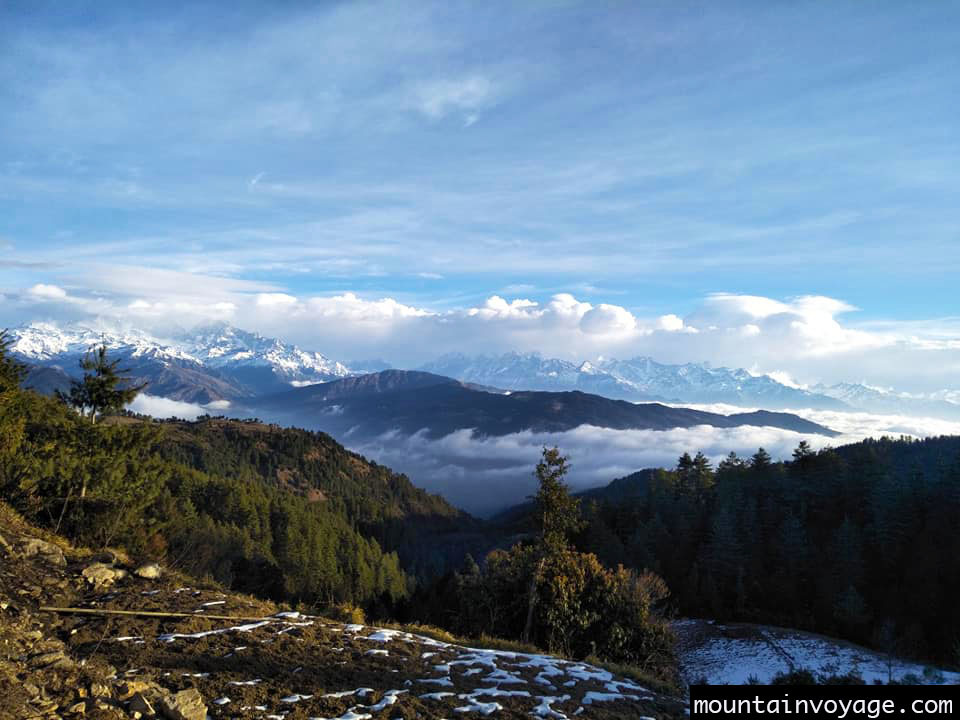 Day 6 Trek to Thulo Lekh, 4,100m/13,451ft - 3 hours
There are fantastic views of Fishtail Peak and surrounding snow-capped summits to be on the ridge above the campsite. After 1½ hours of walking, the trail opens out into a large meadow. Another hour brings you to an ACAP signpost to Dudh Pokhari at 4,080m/13,386ft. You continue following the red and white ACAP poles to Thulo Lekh.
Day 7 Trek to Thurju, 4,080m/13,385ft - 6 hours
Today, You will have to cross two passes over 4,000m/13,123ft. You begin walking up the valley, following the river on a trail. It takes around 2 hours to reach the pass. From here you see a superb view of the Manaslu range of peaks, Lamjung Himal, and Annapurnas towards the west. After that, descend slightly on a good path, following the odd red arrow and contour around the hillside. After 1-1½ hours from the first (highest) pass, you reach the second pass at 4,380m/14,371ft - Furju Deurali.
Day 8 Trek to Dudh Pokhari
For added acclimatization, you can walk up to the holy lake where the pilgrims go in August - Dudh Pokhari.
Day 9 Trek over Namun Pass, 4,850m/15,912ft - 4½ hours. Descend to Dafne Kharka, 4,250m/13,946ft - 2 hours
You begin by walking on the flat, before descending to the river, crossing it and beginning your long ascent to the pass. At the top of this (2 hours), there are a few prayer flags and it flattens out. There are fantastic views of snowy peaks all around. You will feel the altitude as you make your final climb to the pass at 4,850m15,912ft, marked with prayer flags and an ACAP sign. There are superb views of Manaslu here. The descent to Dafne Kharka, 4,250m/13,946ft, gives glorious views.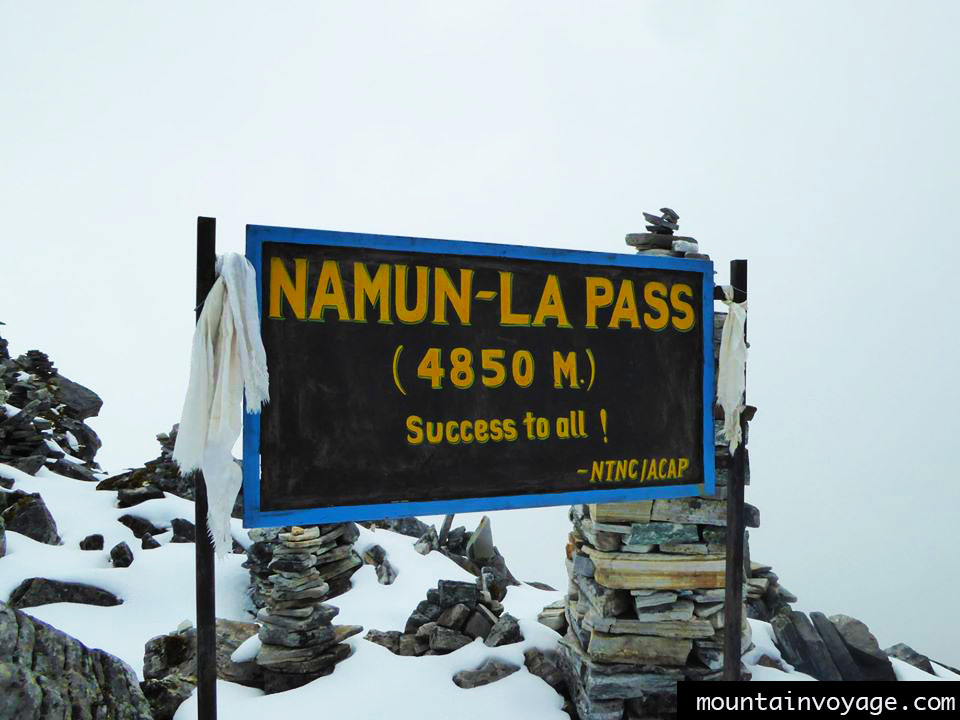 Day 10 Trek to Timang 2,750m/9,022ft - 4 hours
After an initial 10 minute climb up to the ACAP sign at 4,280m/14,042ft, you descend on a good trail in the open hillside, to begin with, which then winds through the forest to Timang.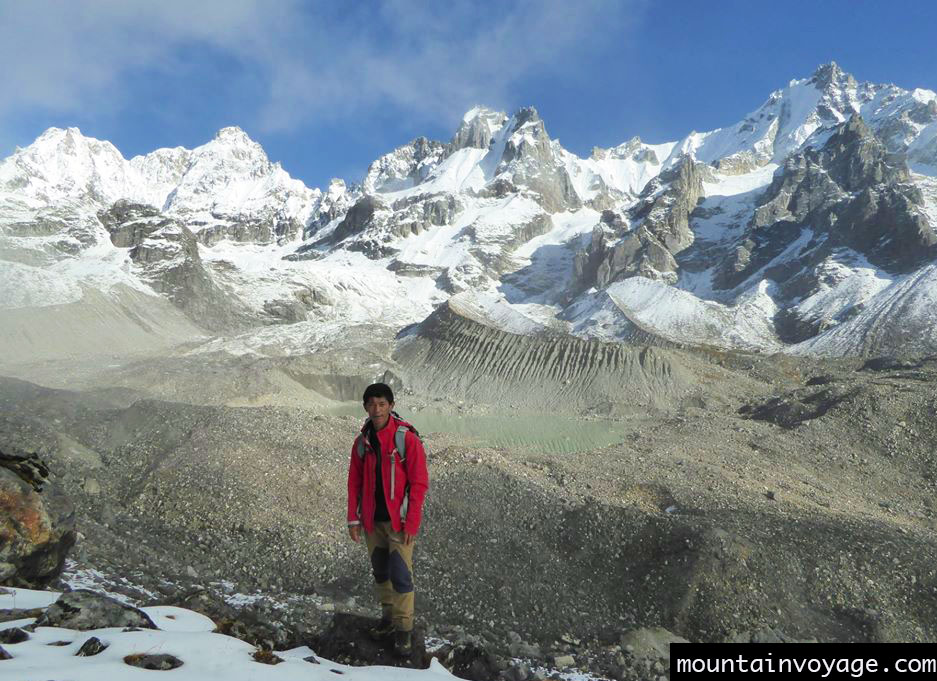 Day 11 Trek to Dharapani 1,900m/6,234ft - 2½-3 hours
It's a pleasant amble down from Timang to Dharapani, passing the occasional village and tea houses on the main Annapurna Circuit trail. You are definitely out of the wilderness now! You'll see the trail on the other side of the suspension bridge in Dharapani leading to the Manaslu Circuit trail.
Day 12 Drive to Kathmandu- 10 hours
Today you drive to the town of Mugling and then head east on the main Kathmandu-Pokhara road. On arrival in Kathmandu, you have the rest of the day at leisure to relax.
Day 13 Departure
We will drop you to the airport for your return flight before 3 hours of your flight time.
Equipment List
Document List:
Valid passport
2 extra passport size photos
Photocopies of passport and visa form
Dollars in cash for purchasing Nepalese visa at Kathmandu airport
Credit cards, bank/ATM/cash machine cards for withdrawing funds from cash machines
Accessories:
Sleeping bag
Headlight with batteries
Water bottles
Toiletries
Small wash towel
Personal Clothing items:
Head:
Sun hat or scarf
warm fleece hat
Black Sunglasses
Upper Body:
T-shirts
Weight thermal tops
Fleece jacket
Fleece Wind-Stopper jacket
Waterproof jacket
Down vest or jacket
Hands:
Lightweight gloves
Heavyweight gloves or mittens with a waterproof shell outer
Lower Body:
Underwear
Hiking shorts
Lightweight cotton long pants
Light and expedition weight thermal bottoms
Fleece or wool pants
Waterproof pants
Feet:
Thick, warm wool hiking socks
Hiking boots with spare laces
Camp shoes (sneakers or sandals)
Personal Hygiene:
Two tubes lip sun cream, at least 1 large tube regular sun cream (min. factor 30), some after-sun lotion in case you do get a sunburn
toothpaste/brush set;
hand sanitizer gel
1 synthetic towel
Medical Supplies:
First-Aid kit
Anti-diarrhea pills (Imodium)
Anti-headache medication (Aspirin or Ibuprofen)
cold medicine.
antibiotics for stomach infection
anti-altitude sickness medication: Diamox (Acetylzolamide)
water purification tablets
Useful Info
This trek can be redesigned or redeveloped as per your taste, For more information please e-mail us at mountainsunvalley@gmail.com.
FAQ
1. What preparations should I make before trekking?
It is always a good idea to involve yourself in doing physical exercises before trekking. Not that you have to be all athletic and muscular to trek. An average level of physical fitness will make the journey less stressful.
2. Is drinking water easily available?
Availability of drinking water is not the problem. The problem is the cost of it at higher altitude. As you gain height, the price of water rises up to 2-3$ per liter.An alternative way of getting drinking water is by having your water bottles filled in tea houses. Tea houses will provide you boiled water for about 1$ per liter. They are completely safe for drinking.
3. What kind of food is available during trekking?
Food is not of any concern while trekking. You will get all kinds of cuisines. For breakfast, tea houses will provide you with eggs cooked in your preferred style along with pan cakes, bread butter, roti, and so on.Various other dishes like pizza, pasta, momo, chowmein and many more are also available. The most preferred dish is Dal Bhaat. It is a typical Nepali meal. Rice is served with vegetable curry, lentils, tomato chutney and meat curry.
4. What are the risks associated with trekking?
Trekking is an extreme sport and does come with a lot of risks. Some unavoidable risks are avalanche, heavy rainfall, earthquake, landslide and other such natural calamities.You might fall and injure yourself or catch some viral flue. The deadliest risk of trekking is AMS or Acute Mountain Sickness. This sickness occurs when a great altitude is gained and the body fails to adjust to the changing pressures associated with it. Anyone can fall a victim of the sickness and if not treated in time, it can be fatal.
5. Do I need a guide/porter to trek?
There is no such hard and fast rule that you must have one. But it is highly advisable to travel with them. Some of the treks cannot be trekked without a guide most of them are the restricted ones.
From USD1650pp
The trip can be easily booked
We provide budget friendly trips
We provide the best price in comparision
Accomodation
Lodge + Camping
Route Map